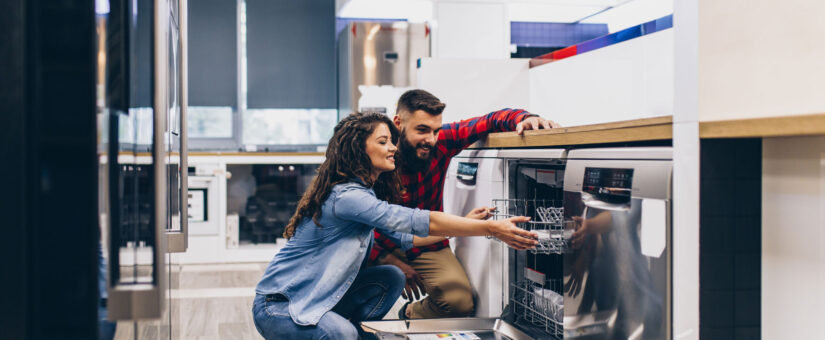 Dishwashers save time and effort. Compared to washing dishes by hand, a dishwasher can save you over 230 hours a year. Modern dishwashers are also more water-efficient than hand washing, utilizing no more than 3.5 gallons during a regular cycle. With a vast array of models available, choosing the best dishwasher to meet your needs can be daunting. River City Appliance is happy to help you in identifying must-have features, understanding various prices, and ultimately, picking the perfect dishwasher for your kitchen.
Will the Dishwasher Fit?
When selecting a dishwasher, consider both exterior and interior dimensions to ensure compatibility with your kitchen layout and cleaning needs. Conventional-sized dishwashers are designed for a cavity 24 inches wide, 35 inches high, and 24 inches deep, while smaller kitchens might opt for models designed for an 18x35x24-inch cavity. Make sure you have room for the model you're considering by measuring the space that will be occupied by your dishwasher.
Do Your Dishes Fit the Dishwasher?
This step is sometimes overlooked. It's crucial to evaluate the dishwasher's interior, especially the spacing and placement of silverware baskets. Many dishwashers are designed by the number of place settings they hold per load. If your family is larger, you might be putting a larger number of dishes in the dishwasher. In any case, ensure your dishes fit comfortably.
Dishwasher Types
Built-in: These fit under countertops and require plumbing connections. They come in standard (12 to 16 place settings) and compact (eight to 10 place settings) sizes. These are the most popular style of dishwasher, and often come with the most features.
Countertop: Placed on counters, these typically accommodate six to eight place settings per wash and connect to the kitchen sink for water intake and drainage. But don't be fooled. Although many current models are lighter than most other types, most homes simply keep them in place on the countertop. Take that into account when considering this model.
Portable: Ideal for smaller spaces and rentals, these slightly larger units accommodate eight to 12 place settings and similarly require access to a kitchen sink. They are excellent for apartments and mobile homes, having the added feature of being rolled out of the way when not in use.
Things to Consider with Dishwashers
While stainless steel remains popular, dishwashers are available in various finishes, such as white, black, slate, brushed metal, and more. It might be important to ensure it matches or complements other kitchen appliances. You can also opt for a front-door mounted control, for easy visibility or a hidden control for a sleek look. Some dishwashers offer additional features like adjustable racks, third racks, soil sensors, designated wash zones, smart-home integration, and more. Even things like the dishwasher's decibel level might come into play if the noise output is important to you. While such options enhance user experience, they might also increase the appliance's cost.
Trust the Appliance Professionals
Even this guide might overwhelm you with options. Thankfully, River City Appliance has years of experience and expertise to help you filter out the options that are most important for your circumstances. Plus, we know which models tend to need more frequent repair, and which parts will need replacing. Let our expertise help guide you to make a sound investment in this valuable household appliance.  Give our office a call, and we'll answer your questions about dishwashers.
Posted by River City Appliance Blog
On October 5, 2023
0 Comment