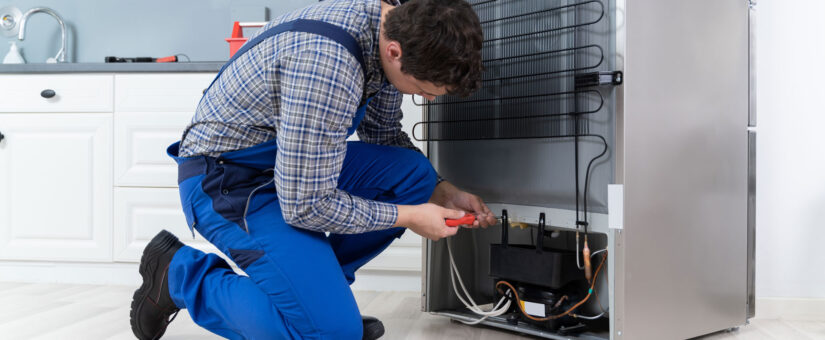 Why Do Refrigerators Fail?
The refrigerator is undoubtedly one of the most important appliances in your home, quietly working around the clock to keep your food fresh. Unexpected failure often results in significant food costs and inconvenience. Let's explore two leading causes of refrigerator damage—high voltage surges and wear & tear. There is little you can do to prevent voltage surges, but how does regular maintenance prevent damage from ordinary use?
Refrigerator High Voltage Surges
During a power surge, an increased voltage causes an excessive amount of heat, potentially damaging the control board, compressor, and ice maker of your refrigerator. The control board, being the most sensitive component, is especially vulnerable to surges. When we see these damages at River City Appliance, we often recommend replacing the control board due to its affordability and ease of installation. However, if a surge damages the compressor or ice maker, it might be better to replace the refrigerator altogether.
Refrigerator Wear and Tear
Refrigerators can last over fifteen years, but a lack of maintenance significantly reduces their lifespan. Three common wear-and-tear failures we frequently encounter at Sacramento's River City Appliance are seized compressors, failing fan motors, and dirty condenser coils. The compressor is the heart of your refrigerator's cooling system. Like all equipment with moving parts, its functionality diminishes over time, and the potential for the internal components to seize up increases. Similarly, fan motor bearings gradually wear out, preventing the motor from running efficiently. Finally, dirty condenser coils prevent proper heat transfer, forcing the compressor to overwork and prematurely fail.
Maintenance Tips to Prevent Refrigerator Damage
With any sort of maintenance on your refrigerator, we highly recommend contacting us at River City Appliance for customized recommendations. Many models of refrigerators have their own designs or special configurations, like different models of cars from different makers. But the main point is that maintaining your refrigerator helps to prevent these wear and extends its lifespan. Here are some tips we recommend at River City Appliance:
Clean the Condenser Coils. Regular cleaning of the condenser coils helps ensure efficient operation and reduces wear on the compressor. A good routine at least twice a year is a recommended practice. Clean around and underneath the refrigerator to eliminate dust and grime that could make its way into refrigerator components.
Keep It Full. A fully stocked refrigerator maintains its temperature better than an empty one, reducing the strain on the compressor.
Don't Ignore Strange Noises. If you hear a new noise from your refrigerator, it could indicate a an impending failure. Small, intermittent whines or bangs may point to an issue with the ice maker. Contact River City Appliance for a thorough assessment.
Rely on the Experts
Knowing the leading causes of refrigerator damage and how to prevent them can save you a great deal of time and money in repairs or replacements. But many of us lead busy lives and might not have the time or confidence to maintain our refrigerators by ourselves. At River City Appliance, we specialize in appliance repair and maintenance, ensuring your refrigerator—and other appliances—perform their best for years to come. Give us a call with any questions. You can also schedule a repair or ask a repair question using the form under our contact link.
Posted by River City Appliance Blog
On July 13, 2023
0 Comment