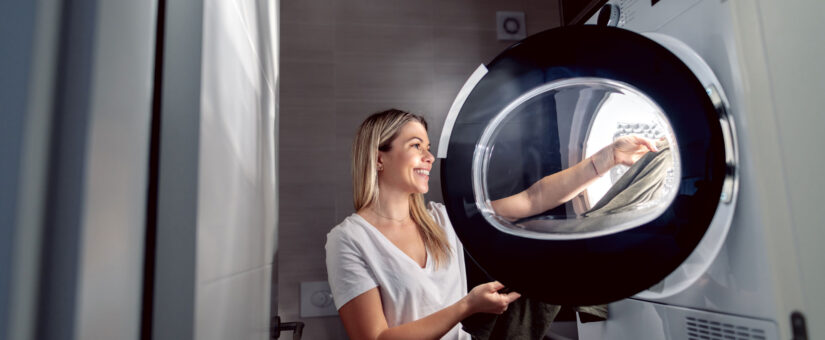 Nothing feels quite as cozy as a warm blanket or a pair of pajamas just pulled out of the dryer! So when the dryer stops working and you're left with a pile of sopping wet clothes, you definitely want a quick solution for the problem. LG appliances are very common in the Sacramento area, so River City Appliance does a lot of LG warranty service and appliance repair. Here are some of the most common problems we see with LG dryers.
Dryer Makes No Heat
Without a working heater element, a clothes dryer is just a fancy way of tumbling around wet garments. You would literally be better off with a clothesline on a windy day! Fortunately, this is usually a quick repair, involving either the heating element itself or a blown safety fuse that prevents fires and overheating. Obviously, a blown fuse demands a thorough examination to make sure that your dryer is safe to use, and that's why even a simple fix like this should really be done by an appliance repair professional.
Clothes Drum Makes Noise When it Spins
Sadly, LG clothes dryers do have a noted problem with drum failures. Basically, one of the rollers that supports the drum and allows it to turn freely at high speeds is frozen or damaged. You generally get fair warning about this impending problem by the presence of high-pitched squealing or grinding noises. Call River City Appliance if your LG dryer becomes noisier than usual.
Can't Stop the Spinning
If the drum isn't seized up, then it might just be spinning too much! Some LG dryers develop a fault in the digital control board that operates the drum motor. For safety reasons, a drum always stops once you open the dryer door, or when the dryer cycle is over. When the control circuit fails, the drum might just keep spinning! Obviously, that makes collecting your clothes a bit more of a challenge, so just unplug your dryer and call River City Appliance to fix this problem for you. (For safety reasons, do not repeatedly use the plug as the means of turning your dryer on and off. This is an emergency stopgap only. All automatic mechanisms in a dryer are important parts of the fire prevention safety system.)
We Stock LG Parts
River City Appliance stocks a large number of LG dryer parts, especially for items that commonly fail like these we mention here. If your LG dryer needs warranty service or any other kind of maintenance or repair, contact us by phone or via our website. We look forward to getting you back into those warm, comfortable bed clothes!
Posted by Arianne Miller
On May 20, 2021
0 Comment